Choose
Festival
Participant
registration
Follow us!
Партнеры

26.04.2014 16:22

To print a sandwich, to find your way in the city using a hologram of the area, to feel the music through your skin — all of this may be possible in the nearest future. To be trendy is one of the most important goals of a person in the modern world. The round table "Multimedia Trends" has been held at "Multimatograf".
26.04.2014 12:06

We had a workshop "Stage design and video mapping" by our guests from Strasbourg Jeremie Bellot, Sebastien Schnabel, Josselin Fouche. They told how to create an amazing light show with the use of simple objects and animated video projections. Don't miss the opportunity to see these projections with your own eyes in Russkiy Dom today at 10PM.
25.04.2014 22:25

If you have been working all day today, do not miss the opportunity to visit the festival tomorrow. For those who are into animation, "Multimatograf" has prepared a series of different programs.
25.04.2014 22:05

During the first day of the festival, jury and audience were watching nominations in two categories: "Fiction Film" and "Wild". Aleksei Zorin, a permanent member of the jury, shared his thoughts: "In ten years both the participants and the technical execution have changed a lot. The number of works we receive has increased tremendously. Now, probably, the only thing you can't shoot a video with is a microwave, and that gives a great freedom to express yourself.
25.04.2014 19:15

The creators of the cartoon "Alice knows what to do!" Olga Baulina and Konstantin Anoufriev told the guests of "Multimatograf" what 3D animation is. "Honestly", — added Konstantin. We traced the workflow of a director and an art director duo on of one of the episodes of "Alice".
25.04.2014 13:54

Our guest from the USA, creator of the cartoon series "DuckTales", Jymn Magon told us how to create a story for an animated film. He started his career at Walt Disney where he worked on such world-famous cartoon series as "Disney's Adventures of the Gummi Bears", "Goof Troop" and "Chip 'n' Dale".
25.04.2014 11:59

The 10th Festival "Multimatograf" has started. During these three days we are going to have interesting meetings, educational workshops, amazing light shows and much much more.
24.04.2014 16:53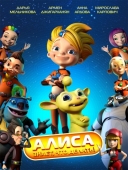 Творческая команда проекта «Алиса знает, что делать!» приезжает в Вологду на «Мультиматограф». Десятый международный фестиваль мультимедийного творчества пройдет с 25 по 27 апреля. С художественным руководителем проекта Игорем Ковалевым посетители фестиваля встретятся 26 апреля. Он проведет воркшоп «На стыке коммерческой и авторской анимации; производство коммерческой анимации в РФ и за рубежом». Игорь Ковалев — один из лучших российских режиссеров и аниматоров. В 70-х он работал на «Киевнаучфильме», затем основал студию «Пилот», а с 1991 года был режиссером на ведущих американских анимационных студиях Klasky Csupo и Nickelodeon.
23.04.2014 10:11

Эксперты фестиваля «Мультиматограф» и представители научного сообщества обсудят тему «Тренды мультимедиа» на круглом столе. Он пройдет 26 апреля, в субботу, с 14 часов на 2-м этаже Русского дома.
22.04.2014 18:04

Программа показов 10-го фестиваля «Мультиматограф». В программе возможны изменения, следите за новостями на сайте! Показы предусмотрены и для взрослых, и для детей.